Life happens; we understand that you can't make it to
every
Isagenix event (even though we would love to see you!), but that doesn't mean you should miss out on the stellar training, exciting launches, and the palpable excitement we have in store for this year's Global Celebration. Global Celebration tickets are officially sold out, but you can still watch the event on IsagenixLive™!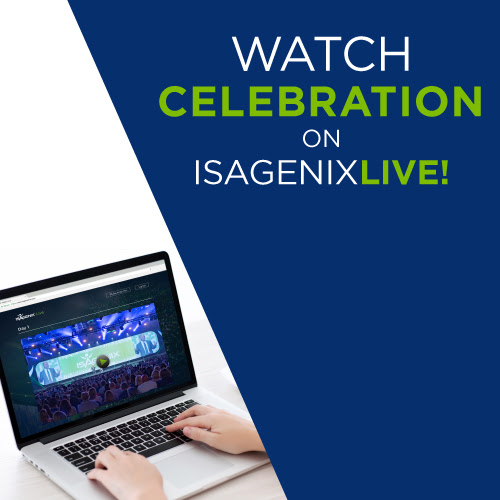 What to Expect From IsagenixLive Global Celebration 2018
You can kick back and relax in the comfort of your own home and allow our top trainers to transform the way you approach business building and equip you with new skills and tools to set you up for success. Here are fivereasons why you need to buy a ticket to watch IsagenixLive.
To learn about the IsaLife™ Success Plan, which will help you define your goals and put what you've learned into action.
To receive dynamic training on the Say, Share, Do method so you know how to approach and follow up with prospects.
To experience the exciting product launches and training, including one of our most thrilling launches to date!
To watch live as we select our IsaBody Challenge® Grand Prize Winner and award winners of the 2018 Gala Awards.
To enjoy exclusive product discounts and backstage interviews exclusively for IsagenixLive viewers.
Global Celebration 2018 IsagenixLive Agenda
Sunday, Aug. 5
General Session: 4-7 p.m.*
*Tune in for FREE Sunday, Aug. 5. Invite everyone to watch with you! Learn more about our exciting new products from the comfort of your own home.
Monday, Aug. 6
General Session: 9 a.m.-5 p.m.
Tuesday, Aug. 7
General Session: 9 a.m.-1 p.m.
Gala Awards: 8-11:30 p.m.
Bring the IsagenixLive experience to your home, and watch Global Celebration with your friends, family, or team members!